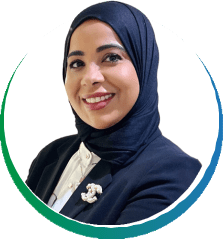 Mrs.
Namat
Mubarak
AlSanduleh
AlSubaie
Former Consultant / Advisor Allied Medical Profession (NHRA) National Health Regulatory Authority.
Consultant Namat AlSubaie she has awarded by Majesty king of Bahrain Hamad bin Isa Al Khalifa's Royal order to the medial to frontline health  care  professional  (Prince  Salman Bin Hamad Al Khalifa Medical Merit) 2021,   in appreciation of their tireless effort and honorable sacrifices, in combatting the Covid-19 and preserving public health.
Al-Subaie completed MSc Quality Health Care Management, (RCSI), diploma in sick children, Dublin – Ireland and get certificate for cupping therapy from Sharjah International Holistic Health Center, also she is certified Auditor.
She  gained  a  comprehensive   experience in alternative medicine through searching regulating alternative medicine different professions. Former she  was  chairperson  for the Advisory Committee on Licensing of Alternative Medicine and Complementary Medicine GCC Alternative and Complementary Medicine Committee, from 2016 till 2022).
The biggest achievement  when  She  took over since Nov 2015 to regulate the alternative medicine in the kingdom of Bahrain by issuing Resolution no (33) of
The owner of the idea of issuing a permit license for the Bahraini traditionalcupping since October 
Program Manager for the first in Bahrain (Basic Principle of Cupping (Hijama) Therapy
General Manager & Specialist in Complementary Medicine & Cupping Therapy in Sharjah International Holistic Health Centre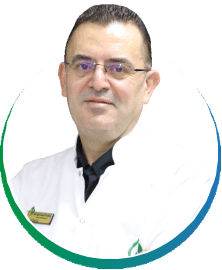 June 2012
Board of Integrative Medicine (BOIM)
WONM-University of Humanitarian Medicine Federation (Toronto-Canada)
May 2007
Clinic Nemopharm – New Quantum Medicine Objective – France
Training course in Quantum Therapy
July 2006
Arab Council for Graduate Studies and Scientific Research-Cairo University
Training Course in Recent Advances in Acupuncture, Moxibustion and Cupping
June 2005
University of Natural Medicine – New Mexico USA
Major: Diploma in Iridology
June 2000
Al Fateh University- Faculty of Medicine
Major:  Bachelor's  degree  in  Medicine  and Surgery
General Manager & Specialist in Complementary Medicine & Cupping Therapy in Sharjah International Holistic HealthCentre
Chairman of Complementary Medicine Academy –Sweden
Ambassador of World Organization of Natural Medicine (WONM) & International Social Action Foundation(FASI)
Memberof MOH Complementary Medicine Committee
UAE Red Crescent – Volunteer Physicianin Sharjah (Cupping Clinic
HonourawardfromthefirstComplementary Medicine Conference in Abu Dhabi – May 2012(Chairman of Scientific committee)
Honouraward from the Quantum Medicine Conference in France – May 2011
Honour award from the Natural Medicine Conference in Canada – May2009
Honour award from the First Iridology Conference in Sharjah – March 2006 (recognized for the best scientific committee organizers for theconference)
Honour award from Sharjah Medical District – March2006
Lecturerin Alternative Medicine at Sharjah University and UAE University Medical College
Lecturerin Intensive course to the medical staff and public – specific to cupping therapy approved by UAE MOH
Lecturer in various lectures at Women Social Club (Sharjah –Dubai)
Offervarious lectures at schools around the Emirates
Chairman of Scientific committee to International Holistic Day (May 18-19,2008)
Assistantat Holistic Health Center – Beirut
Chairman of Scientific committee at the First Iridology Conference –2006
Assistant to the Chairman of Scientific Committeeat the First Alternative Medicine Conference in Sharjah – October 2003

Allied Medical Professions Advisor , National Health Regulatory Authority (NHRA), Bahrain

Information Specialist/Advisor Office Rapporteur of the Advisory Committee on Alternative and Complementary Medicine Licensing

Head of alternative and complimentary medicine committee. Head of Health advertisement approval committee, National health regulatory Authority . Acting head of inspection Group Heath facilities regulation department. Iso 13485:2016 surveyor .
Medical doctor- HFR department,NHRA.

Infection Control | Practical Part
The
objective
of
the
course:
Explain and summarize the origin and history of cupping and learn how it can enhance your massage
Informthat cupping therapy is one of Islamic (Prophetic)  Cupping treatment is one of the oldest treatment arts known to man in many societies, from ancient Egypt to the west.
Explainthe medical responsibility, belief, and practice of cupping 
Explainand identify the benefits of cupping 
Explainand evaluate correct procedures for the cupping therapy using cupping specific 
Explainthe Cupping proper and specific places, Cupping Prohibition, and Cupping Precautions, as well as explain how they can be safely 
Explainand discuss the scope of practice and related use of each method of cupping therapy and the use for various Cupping therapy is used for specific complaints, conditions, and disorders, including sports injuries.
Principles
of
the
course:
Thisis a traditional, Islamic (Prophetic) medicine, a time-honored treatment remaining favored by millions of people worldwide because it is safe, comfortable and remarkably effective complementary medicine for many health 
Aform of therapy where suction is placed around various parts of the The main principle behind cupping is the suction created encourages blood and lymph flow to promote the healing of a broad range of medical ailments.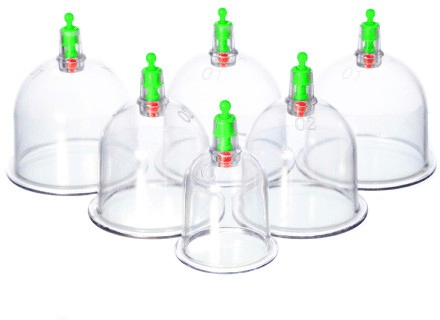 History
of
Cupping
Therapy
CuppingTherapy, commonly referred to as Hujama, has been around for thousands of  It developed over time from the original use of hollowed out animal horns (the Horn Method) to treat boils and suck out the toxins out of snakebites and skin lesions. Horns slowly evolved into bamboo cups, which were eventually replaced by glass. Therapeutic applications evolved with the refinement of the cup itself, and with the cultures that employed cupping as a health care technique.
The true origin of cupping still remains uncertain to this Some consider the Chinese to be responsible for cupping, however, the earliest pictorial records date back to the ancient Egyptiansaround 1500 B.C. Translations of hieroglyphics in the Ebers Papyrus, the oldest medical text book, detail the use of cupping for treating fever, pain, vertigo, menstrual imbalances, weakened appetite and helping to accelerate the healing crisis
DryCupping : The cupping procedure commonly involves creating a small area of mild negative pressure next to the  However there is variety in the tools used , the method of creating the low pressure and the procedures followed during the treatment .
Wetcupping : In this alternative form of bloodletting or medicinal bleeding , also called blood cupping ,surgical cupping,a small scratch on incision is made with a lancet prior to the cupping and the pressure difference extracts blood from the skin .
Movable Cupping : Movable cupping massage process but using some oil and can be use as thesetting for wet cupping ,Cups should be move circular way .
WaterCupping
MagneticCupping
BambooCupping
AcupunctureCupping
Hijama (Cupping) is the process of withdrawal of blood from the surface of the skin with or without causing scratches and in medical Cupping we scratch capillaries to bring toxins and free radicals, not waste blood as promote.
Cupping is one effective Complementary medicine.
Prohibitions
of
Cupping
Therapy
Fever.
Renal failure.
Patients with Heamophilia.
Patients with pacemaker.
Patients with severs Anemia .
Pregnant women specially on the first trimester .
Not allowed to scratch over the varicose .
Cancer patients in late stage.
Not allowed to do Cupping over umbilical , nipple eyes,patella and genitals.
Medical
Benefits
of
Cupping
Stimulateblood circulation and extraction of free radicals and blends vessels and the effect of medications .
Activatesbody movement centers .
Activates biological processes in the skin tissue layers by absorbing toxins and the effectsof drugs from the body .
Stimulatesenergy pathways and revitalize the body .
Strengthensoverall immunity of the body .
Decreasesthe pain felling by extracting 
Cuppingraises antioxidants .
Cupping reduce harmful LDL cholesterol and raises the proportions of the body's natural
Day 1 - 14 Jan 2023 (Theory)
Day 2 - 15 Jan 2023 (Theory)
Day 3 - 16 Jan 2023 (Theory)
Day 4 - 17 Jan 2023 (Practical)
Day 5 - 18 Jan 2023 (Practical)
Day 1 - 14 Jan 2023 (Theory)
Day 2 - 15 Jan 2023 (Theory)
Day 3 - 16 Jan 2023 (Theory)
Day 4 - 17 Jan 2023 (Practical)
Day 5 - 18 Jan 2023 (Practical)
Requirements
to
join
the
course:
Copyof valid CPR Card
Copyof valid NHRA License
Copyof valid BLS certificate
Copyof Medical Examination Report (date does not exceed 3 years) including Hebatitis B & C, Pulmonary Sensitivity, and HIV 
Copyof vaccination certificate; Hebatitis B, COVID-19, PPD, other infectious diseases' 
Theoriginal Smart Card (CPR) must be presented on course 
Doctors
/
Nurses
/
Physiotherapists