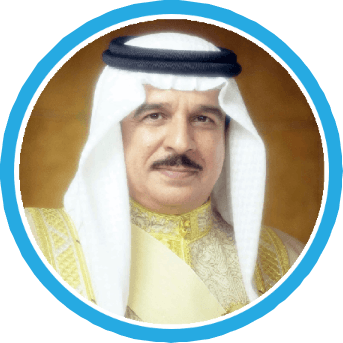 King
Hamad
Bin
Isa
Al
Khalifa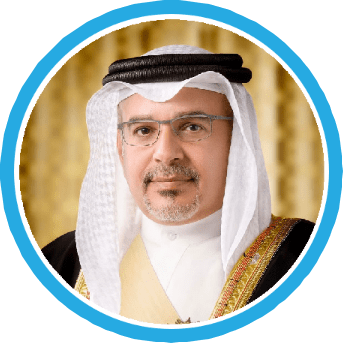 Prince
Salman
Bin
Hamad
Al
Khalifa
Crown
Prince
and
Prime
Ministere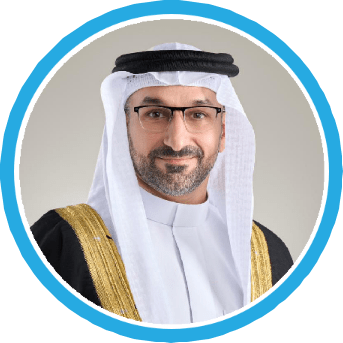 Under
the
Patronage
of
H.E.
Mr.
Abdulla
bin
Adel
Fakhro
Minister
of
Industry
and
Commerce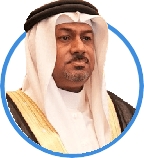 Chairman
of
Bahrain
SMEs
Society
Chairman,
United
International
SMEs
Organization
(UNISMO)
About
the
Bahrain
SMEs
Society
The Bahrain Small and Medium Enterprises (SMES) Society, is a specialized socio-economic NGO/ society that contributes to serving the economic future of the Kingdom of Bahrain since its inception in 1998 and is one of the leading professional societies in the Kingdom that works with a group of emerging entrepreneurs, local and international business partners and government institutions in the Kingdom to achieve prosperity and growth in accordance with the Bahrain Vision 2030.
The Society is managed by a dynamic board of directors to implement multiple programs that serve the Bahraini SMEs.
Among the association's strategies is to cooperate with other associations, nurture entrepreneurship and provide the necessary support to potential entrepreneurs before and during the start of their commercial projects.
Bahrain
SMEs
Society
Board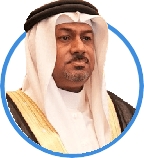 Chairman of Bahrain SMEs Society
Chairman, United International SMEs Organization (UNISMO)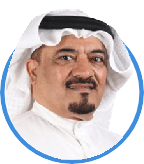 Deputy Chairman, Policies & Strategies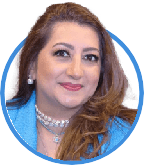 Deputy Chairman, Business Development

Director of Public Relation and International Communication

Director, Training & Conferences Committee

Director of services and exhibition

Director, Membership Affairs

Director of Innovation Entrepreneurship
The United International SMEs Organization (UNISMO) is a Prestigious International Non-Government Organization (NGO) of the world leaders    in the field of Entrepreneurship and Small & Medium Enterprises (SMEs) Development. It is represented by the Board of Directors consisting of experts from various countries.
The UNISMO aims to contribute to the development of an enabling environment for the SMEs sector around the world, working to  convey  the voice and aspirations of the entrepreneurs and owners of SMEs to the country leaders and decision-makers through official channels, represented by various international organizations of the United Nations and other specialized organizations.
It also aims to fostering awareness and promoting the most successful practices supporting entrepreneurship and SMEs worldwide.
Pre-Conference Saturday 21 October 2023
Day I Sunday 22 October 2023
Day II Monday 23 October 2023
Pre-Conference Saturday 21 October 2023
Please go to the Eventbrite link below to secure your participation, as places are limited.
https://preconference-unismo.eventbrite.com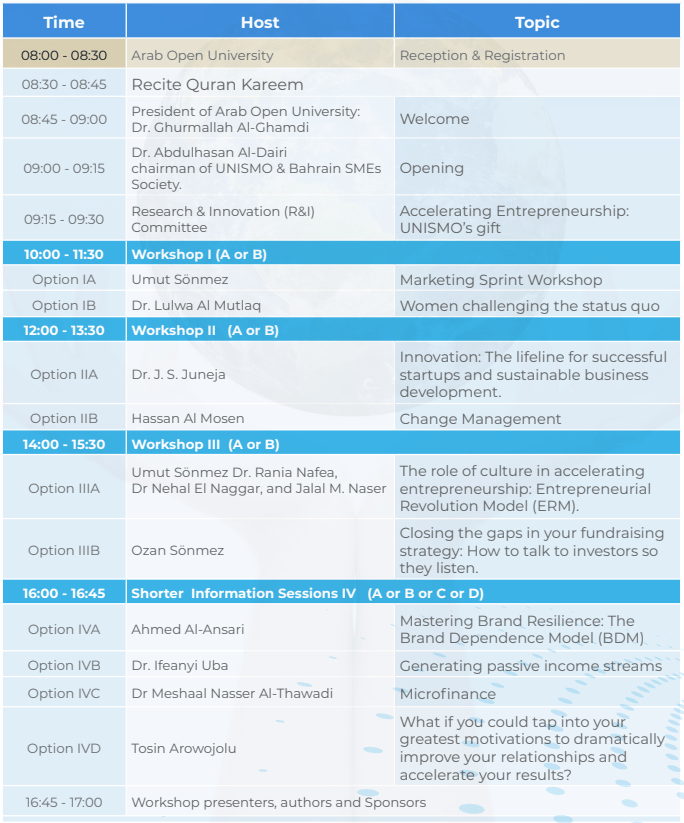 Day I Sunday 22 October 2023
Day II Monday 23 October 2023
Booth Space 2*2 Meter
Specification for 2×2 Shell Scheme:
5high anodized system post and beams with white polykem infill panels.
Onespot light (100 w) to be installed behind fascia board as general 
Whitefascia board (300mmHt) with Blue cut sticker for the name of the 
Onesingle phase power point 13 
Oneexpo counters with two 
One waste paperbasket
Conference Registration Free For 1 Pax Included

Booth SNO(17,18,19,20)

For Reservation and Payment Kindly Contact Mr. Adel Faraj +973 3981 7734
Conference for 2 Days 22,23